1.Nature herbal.
2.Rempair damaged hair.
3.Promote hair growth.
TINA TESTIMONY new olive magic/human hair oil treatment
Oil contains various Chinese herbal extract such as Noni, Wild Ginseng, Wild Ganoderma Lucidum, Olive Oil, Aloe Vera and Ayurvedic Herbs. It dye hair in black color quickly and absorbed effectively to nourish, protect hair from losing and scalp itchiness.
The brand new USA technology formula without chemical can easily cleans the hair and conditioning smooth while darkening gray hair. It also promotes hair to grow healthier and stronger. Enriched with effective supplement such as Vitamin A, D, E and K help to nourish, soften and shine. The herbal hair color shampoo easily apply and leave a natural black, lustrous and beautiful hair.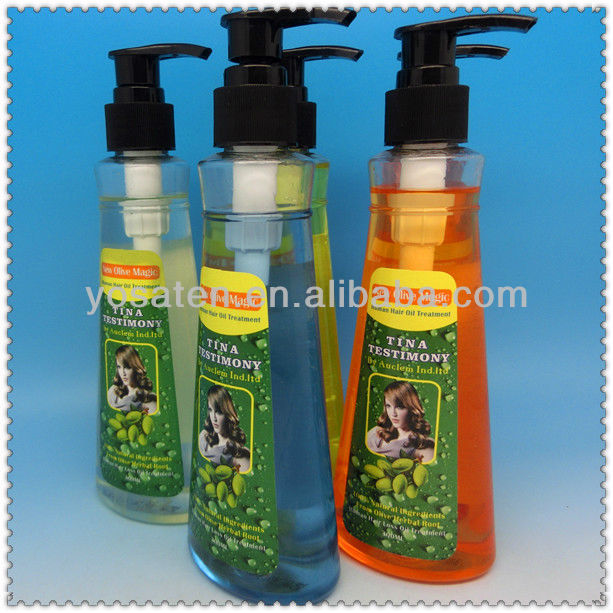 Welcome to our website!
About us
Guangzhou Yosaten Chemical Co., Ltd. is a company specializing in the production and wholesale of cosmetics and raw materials. We are focus on specializing in professional production and processing various beauty cosmetics include whitening cream, freckle removing cream, facial mask etc. OEM is welcome. Our main markets: North America, Southeast Asia, Russia, the Middle East, Australia etc. For more information, please contact with us.
We are a professional cosmetic manufacturer, and designs can be made based on customers' requirements.
Best Quality, Best Package, Best Service, Best Support, Enquiry welcome!